Howdy Moguls,
We here in the Armchair love hyphenates – that rare breed of person who's not only capable of doing different types of jobs, but who's also GREAT at them.
Take Justin Timberlake: singer-dancer-actor. Or Hugh Jackman: actor-singer-dancer. Or Channing Tatum: dancer-actor-um…
Well, you get the point. And because the Armchair LOVES us some writers as well, here's a list of 5 actors you may not have known were also successful screenwriters! And we don't just mean writing movies for themselves to star in – we mean these peeps are hired exclusively for writing gigs – which is pretty extraordinary!
1. Clark Gregg
Sure, NOW you know him as Agent Phil Coulson from the Marvel movie universe, and yeah, you might recognize him from syndicated reruns of the Julia Louis-Dreyfus sitcom THE NEW ADVENTURES OF OLD CHRISTINE, but did you know our favorite S.H.I.E.L.D. agent also wrote the 2000 Zemeckis film WHAT LIES BENEATH? *Mind-blow sound* He also adapted CHOKE, a novel from FIGHT CLUB writer Chuck Palahniuk.
2. Emma Thompson

We bet you thought Professor Trelawney's degree only qualified her to appear in frot of the camera, huh? Well guess what? Before her tenure at Hogwarts or her stint as Nanny McPhee or any other TONS of other amazing roles she brought to life, Ms. Thompson was writing the screenplay adaptations of SENSE AND SENSIBILITY, adding dialogue to PRIDE & PREDJUDICE and yes, she also wrote the NANNY McPHEE scripts as well. Up next? The big screen remake of ANNIE!
3. Justin Theroux
We loved him as the crazy, hatchet-wielding bad guy in CHARLIE'S ANGELS: FULL THROTTLE, and we loved to hate him as the smarmy commune leader in WANDERLUST, but when he's not basking in the light of his own good looks, this big screen charmer has been churning out the screenplays for TROPIC THUNDER, IRON MAN 2 and even the cinematic adaptation of ROCK OF AGES!
4. Jim Rash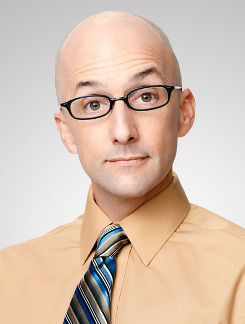 Sure, he's the sexually ambiguous Dean Pelton on COMMUNITY, the cult-favorite show the Armchair once declared as the funniest show on TV. But did you know he's also the Academy Award-winning writer of the George Clooney film THE DECENDANTS? He also wrote last year's coming of age sleeper THE WAY WAY BACK!
5. Thomas Lennon
If you don't know his face from Reno 911, then you probably know if from the dozens and dozens of roles he's played as that guy who keeps stealing scenes away from Hollywood stars in their own movies. But turns out he and his writing partner, actor Robert Ben Garant are two of Hollywood's most sought after comedy screenwriters, having penned NIGHT AT THE MUSEUM and its Smithsonian-based sequel. They've had their share of stinkers too, like HERBIE: FULLY LOADED, which they gleefully talk about in their must-read screenwriting book, Writing Movies for Fun and Profit. Here's an exceprt:
We got to pitch legendary comic Billy Crystal!
Dick.
No joke – that's the entire page.
More FUN FACTS:
Donald Glover
Before finding fame as "Troy" on NBC's COMMUNITY, also wrote for Tina Fey's Emmy award winning series 30 ROCK. He also masterminded the Web short B***JOB GIRL, starring THE OFFICE's Ellie Kemper, a film that haunts her to this day – her words.
 David Hayter
While you may not know his name, as the writer of X-MEN, X-MEN UNITED and WATCHMEN, you definitely know his work. So why is he an honorable mention? Because gamers may also recognize his gravely growl as "Solid Snake" from the METAL GEAR SOLID series.
***
Sound off, Moguls! Are we missing anyone? What writer hyphenates do you wanna see gets some Armchair lovin?